Question
When I log into my Beloit College account, why do I receive a message at my Beloit and personal email addresses with the subject "Unusual Sign-in activity" and a warning that my account might be compromised?
Answer
Beloit College uses Multi-Factor Authentication (MFA) to protect your account from unauthorized access. When signing into your account from a new device or location, you'll be prompted to verify your identity with a second piece of information in addition to your username and password; this can include answering security questions or entering a code sent to your personal email address or cell phone.
Because your account was logged in from a new device or location, our system notices that something is different and will send the "Unusual Sign-in activity" email to let you know that someone is logging into your account. If you were the one that logged in, then you can safely ignore this message - it serves only as a confirmation that you have signed in successfully.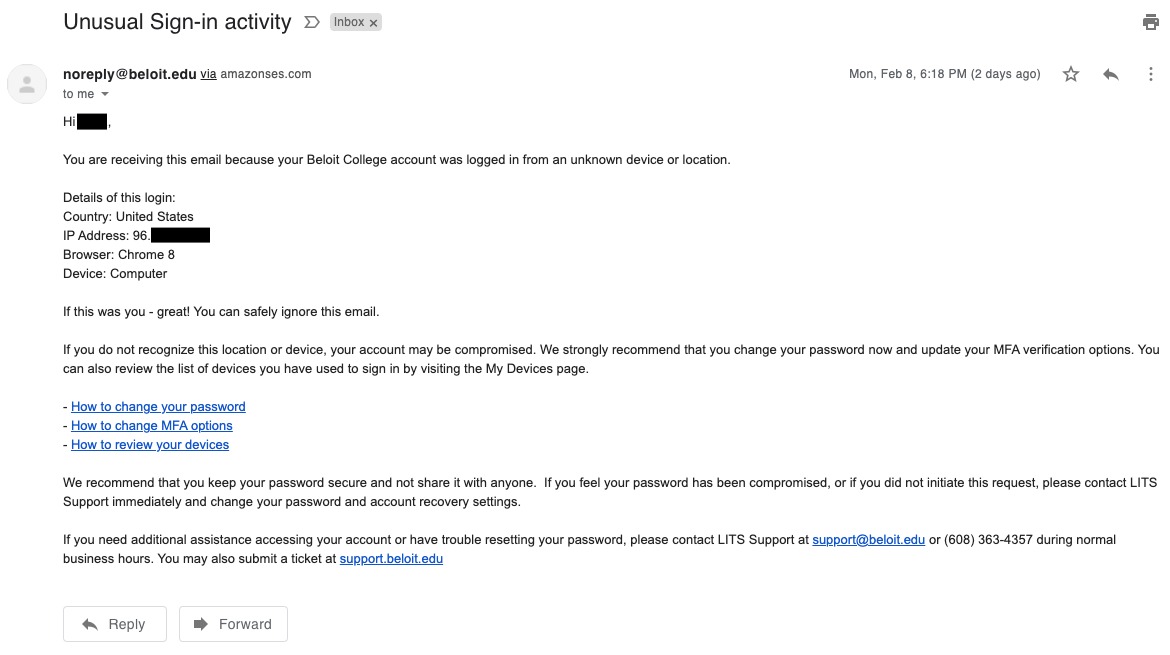 If you receive this message at a time when you are not logging into your account (such as in the evening or on a weekend, or when you're away from your computer), then this indicates that someone other than you is accessing your account. The message then serves as an alert that your account may be compromised, and you should take steps to protect your account such as changing your password.
To avoid having to verify your account with MFA and receiving this message during every log-in, you can "Trust" your device. To do this, check the box labelled "Trust this device" below your verification on your next login. You will not have to verify your account or receive this message when logging in for 30 days from the same device or location. You will need to "Trust" each device you log in from at each location you use it at to let the system know that it's you who is signing in.